I go visit to my home country every two years and each time I travel, I kind of wish I had a decent case to put all my underwear in, this includes my bras. I hate the idea of my luggage are being thrown and harshly handled by baggage handlers at the airport and find out that my bras are squished and damaged. Aside from that, I dread the thought that my undies are exposed once a person who wants to open my luggage and it's my undies that greet them first.
Now, I can rest easy as I finally got me a travel case intended for my lingerie only and here's a bonus, it's FREE from Victoria's Secret! It pays to be a VIP member of this store. I used the coupon they sent me in the mail to get this one. Their only requirement is just to buy two full-priced bras which I did.
I don't need new bras, I still got a few of them with tags in my drawers but I really believe I need the case so I must shop and spend money on bras, one for my sister, by the way. I don't regret though for I had a $10 off a bra, free panties with purchase coupons and a $10 reward card from VS for using my store credit card in the past I used for this shopping trip.
I paid $46 total including tax for my items but hey, with that price… I think it's really a good deal knowing that if I had to buy the travel case, it would've cost me $70. While swiping my VS card, I am also accumulating points to my account which will turn into a $ in the future. Deal, ain't it?
… that pretty black case I have been wanting to own… it could fit at least 5 bras and some little sexy things in a black zipped compartment.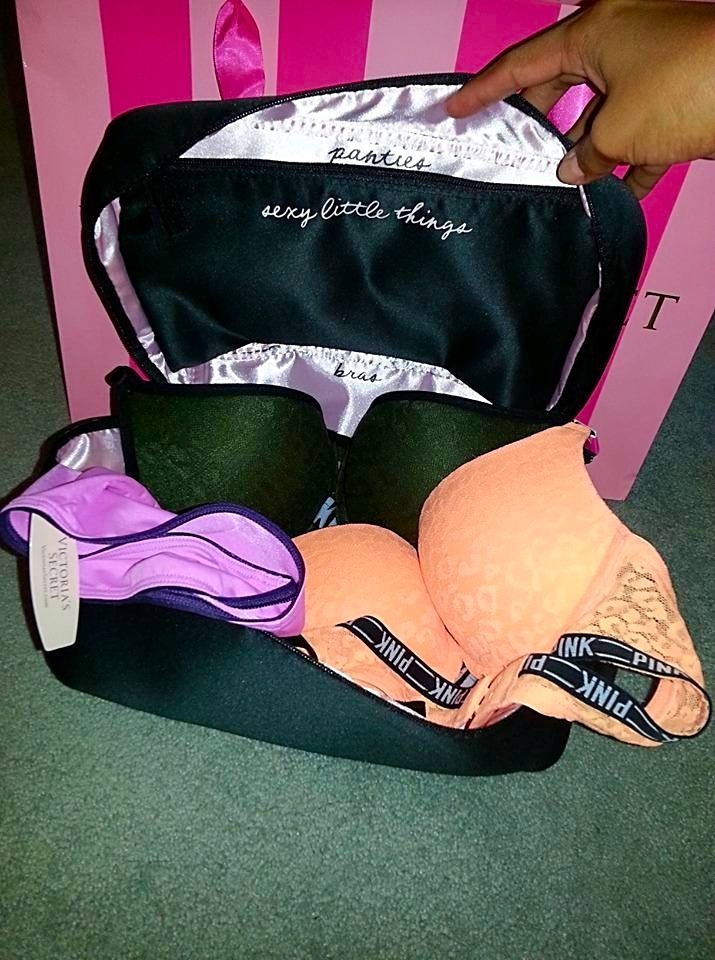 …. as you can see photo below, there's a special compartment for little panties that is not very visible once the case is opened. I like it that way because you know, nobody should see what style or size of undies you're wearing. Not even a stranger should see it.