Don't be fooled of the red sticker that says "reduced" for it is not what it always says. I am beyond disappointed to have fallen Family Dollar's trap when I found out that their "supposed-to-be" reduced items are way higher than anywhere else.
First photo below are 19 0z. progresso soup cans, you can clearly see the red sticker on them for $1.95 each. I trusted them that I actually bought ten cans of it. I consider myself a wise shopper so I take the opportunities to save on things we use everyday or on foods. I shop to several grocery stores and remember the prices especially on progresso soup and compare their prices to Family Dollar. Man, Family Dollar is deceiving!
I visited Dollar General their price for it is $1.95, Kroger under $2 and Walmart is $1.88. Imagine, I paid full price for cans that are supposed to be on clearance. I returned 7 cans back and got refunded for it. I am thankful I did that because, I scored a great deal on these soups at Walmart, was $1.88 down to 75 cents each. Can you imagine the difference there?
I promised to myself that I will never shop ever again at FAMILY DOLLAR, they do have higher prices there plus they deceive customers for being dishonest on their prices. When I returned the cans I wished the cashier have asked me the reason for returning them, I could have told her that I paid full price for their clearance items.
…. FAMILY DOLLAR PRICE – SO-CALLED REDUCED FOR $1.95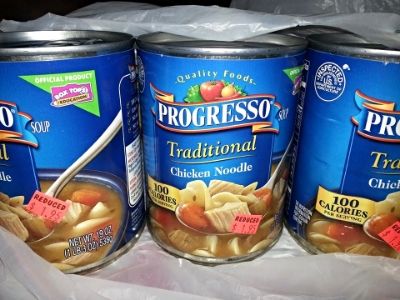 …. WALMART PRICE- WAS $1.88 REDUCED TO 75 CENTS