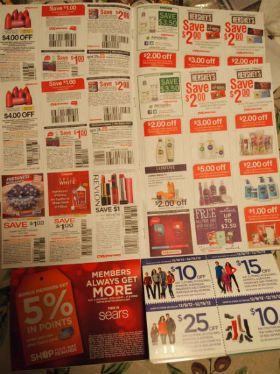 As you may all know I am into couponing now and almost everyday I shop at CVS doing smaller transactions to take advantage of the deals and extrbucks rewards they offer. If you can call it addiction then I am addicted, I won't deny it.
There are several ways to find coupons to use when shopping. These are usually manufacturer's coupons to be stacked with a store coupon in order to get deep discounts on items you love and use in your household. Find above photo to be amusing. I have been buying an exclusive CVS magazine called "Reinventing Beauty" for Winter 2012 which has $49 coupon savings in it for just 99 cents.
Another big coupon book I found is at Sears. I went there last weekend and I actually found a bunch of Sears coupon books in front of me at the register so I took two. Anyway, they are free so why not grab two right? These coupon books have plenty of big coupons to be used on clothing, boots or shoes, tools and other stuff you might be interested at Sears. Grab some if you are going there today or the next days!