I have so many wants in life as a woman which for me is just normal for human beings, purses is one of them but no matter how crazy I am over them I cannot buy a purse often. I don't wish for a luxurious purse either, all I want to possess are middle brands that I can afford.
I have been wanting to buy me a purse that has style and functionality. A cross body bag that I could use when traveling with kids is what I wanted to buy. God knows how I itched to buy me a new purse, for months it's on my mind to really get one when I have the chance and that chance happened yesterday. We spent our weekend in San Antonio and on our way home I asked my husband to stop by one of the premium outlets so I can buy that very purse I have been itching to get … so we did. You know how it feels when you have been waiting forever for that perfect time to buy something that you really and it came true? Feels like heaven and couldn't be more thankful.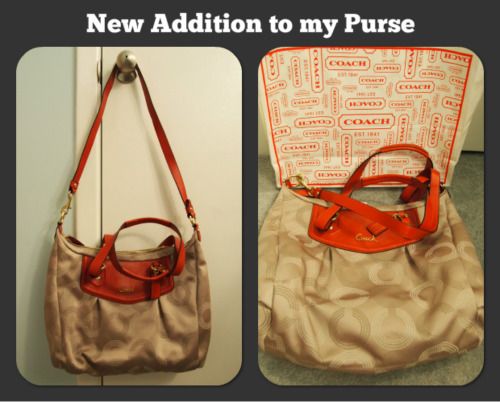 w purse
… right picture is the color in actual, the photo on the left is a bit darker due to lighting..
At last I bought me this spacious 12″x13″ Coach cross body at Premium outlets in San Marcos. It can be worn as a cross body and hand or in shoulder. Originally priced for $328 and marked down up to 80%. Even with that massive discount, I still feel guilty about it for spending so much on a purse like this. But anyhow, this is what I really need when I fly to the Philippines in a month. I guess I just have to suck it up and be happy of my new purse!