Nothing beats homecooked meals. A lot of people don't realize that but once they start preparing their own food, they will recognize the big difference in taste, how much they save and the number of servings they get each time they cook their food. Not only that, they can assure what they are putting in their mouth is healthy and clean.
Anyway, here are some foods we do at home. These are from the grill and cooked the way we want them to be cooked and served. Cost us less than what most people usually pay for in restaurants.
1. Grilled giant squid. Found frozen squid big enough for grilling at Fiesta Mart last weekend for $9 for two. I cooked one and save the other one for next time. This one is so big that I couldn't eat the entire thing for just one meal even if I shared it with my two girls.
The husband grilled it for me which he burned a little bit that made it crispy especially the tentacles. Best paired with ripe tomatoes and dip in spicy native vinegar with chopped onions. The sushi is not homemade, I bought it at the store.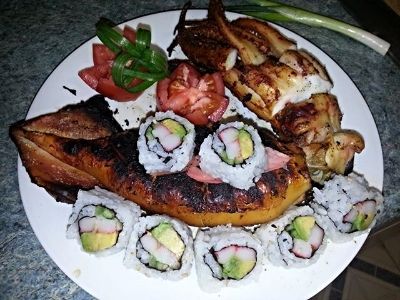 2. Grilled fish and dried fish. The fish itself was big with plenty of its natural oil that makes this perfect for grilling. Each time the oil drips into the charcoal, it makes such flavorful smell that goes straight to your nostrils once it hits in the charcoal. The dried fish was given to me by a friend and couldn't thought of a better way to cook it but put it in the grill. Smells good for me but not for the neighbors who have never tried dried fish before.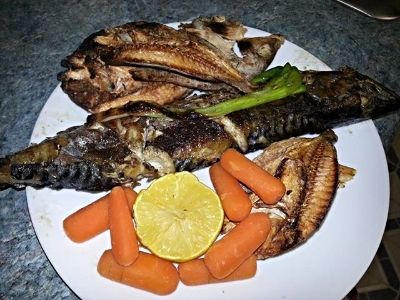 3. Grilled pork ribs. This one is sooooooo yummy, tender and tasty grilled by my husband. Grilling pork baby back ribs or country ribs is what he's good at doing. Perfected throughout his grilling career. Anyone who can taste his job would say the same as me. It really is soooooo good, I promise. Makes you drool? I bet!