Growing up, I still remember that chicken recipe that my grandparents and or father used to cook. It is a recipe that only Bisayan people can make and for years of residing here in America, I could not seem to get its taste nor cook adobaw na manok the way my old folks did.
There is something in it that I really love, the aromatic smell of ginger, onion and garlic is so heavenly that I have been wanting to taste for so long, finally satisfied. Thanks to a friend who shared her mother's recipe as well as the technique to really come up with the delicious taste of the dish. The dish is so common in the Philippines yet seemed mysterious to make (at least to me).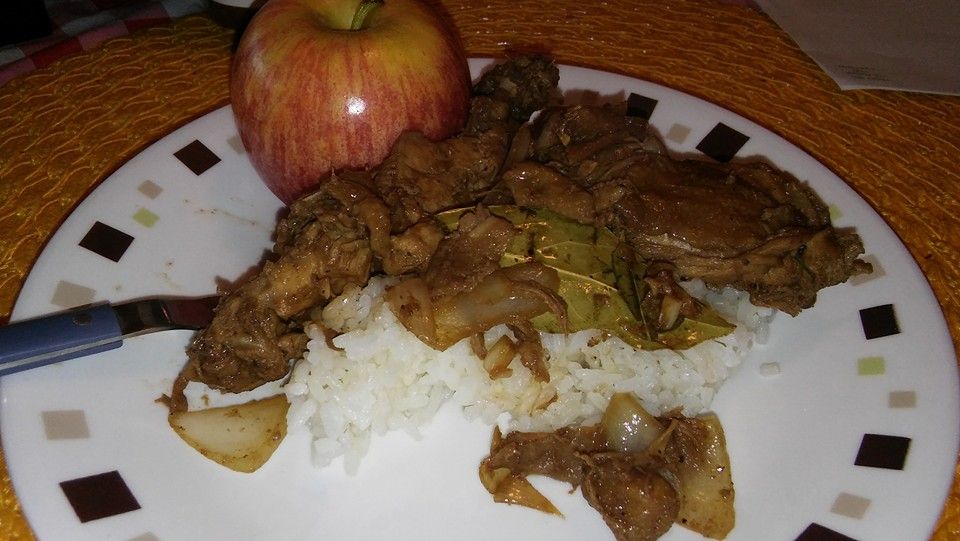 Ingredients:
1 whole chicken – I prefer Cornish chicken for it's similarity to native chicken taste.
3 laurel leaves, 2 tsp. ground black pepper, soy sauce, ginger, garlic, garlic powder, onions, vinegar, oil and salt.
I don't put exact measurement on those because all I do is estimate the amount of each ingredient according to my preference.
Here's how:
~ Buy a whole chicken and cut up the meat into desired pieces. Bones in please.
~ Marinate the chicken for 30 minutes or more with Filipino soy sauce, vinegar, grated ginger, ground black pepper and garlic powder.
~ After marinating, bring the meat to a boil, covered and stirring constantly until meat's natural juice come out. Cook some more until desired tenderness of the meat is achieved.
~ Saute minced garlic and onions until brown. Put in the chicken and its juice, wait until all juice is absorbed and dry, it's optional if you put in the marinated sauce or not. If you don't, it is also good and still make a great adobaw chicken taste.
~ By then, the chicken should be almost done, put some laurel or bay leaves, cover and cook a little bit more. Stir. Add some salt and ground pepper according to your taste.
~ Serve hot.
WARNING: Rice killer, make sure you a got a whole big pot of cooked rice before serving! Enjoy!