Are you curious what I feed to my little girls at home? I am a Filipino and therefore, I cook delicious Filipino foods all the time. We rarely dine out at the restaurant so I am left with no choice but cook my own food. I am one lucky momma for both of my girls aren't picky when it comes to eating my own food. In fact, they like it better than some American foods.
Here are just a few of what I make at home. If you are a Filipino or love our dishes, I am pretty sure you are drooling with these awesome goodness scrumptious foods I share with you today. I would say, I cannot live without eating this tummy-filling healthy foods I like. Luckily though that most of the ingredients of the dishes I usually cook are available at a Mexican and Asian markets nearby.
So scroll down in order to know the name of the dishes below. I will not give the recipes since I am posting a few of these below.
1. Vegetable stew in coconut milk paired with dry grits, fried sardine fish and dried fish. This is perfect when the temperature is chilly and can be eaten during lunch or dinner.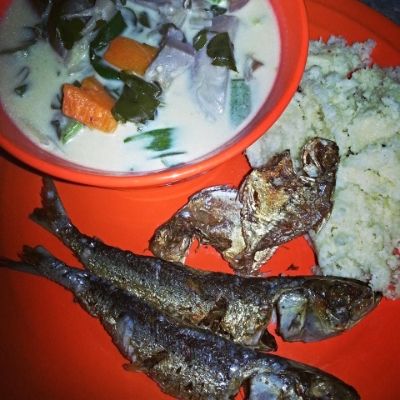 2. Mung bean soup in coconut milk with spinach and okra. Those green veggies, man they taste so good and very healthy. I can eat it forever if I have to and not craving for a pizza. This way way better than a pizza if I should say.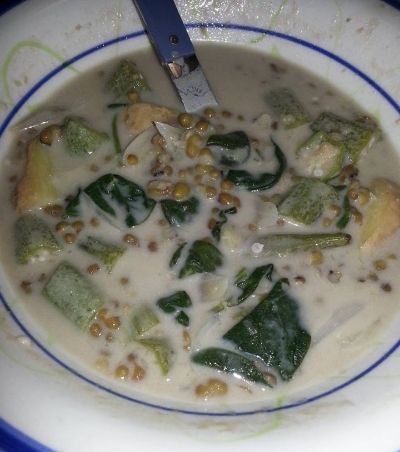 3. Buttered garlicky shrimp. A quick fix for brunch perfect for everybody. It is so easy to make just sautee the garlic in a hot butter, mix in the peeled shrimp and voila! Sprinkle with ground black pepper and lemon. Yum!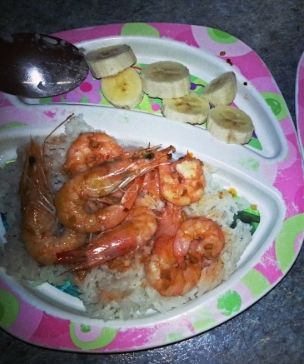 4. Fried Marinated Pork Meat with a bit of fat. This is awesome goodness when you feel like you don't want soup in your plate. Just eat pork with rice and you're good to go. Best paired with lemonade or a bit of coke hehe. I love it cooked a bit scorched and chewy. Takes forever to chew but I grew up eating it the way it is.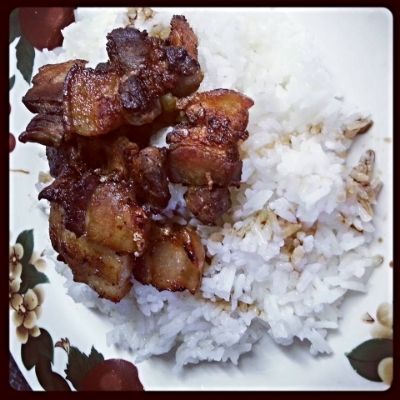 5. Chicken with malunggay (moringa oleifera) leaves soup. This is what most Filipinos crave for when the weather gets very cold. Have a bowl of very hot chicken soup and it sure gives you sweat afterwards. This has ginger in it that its taste a little spicy that makes you sweaty. It is very good if you are curious how it taste.

6. Holiday brand corned beef Philippine brand. This one is the simplest and the easiest to prepare of all. It is not bad to crave for canned meat sometimes so here it is. Great for breakfast and doesn't take long to cook. Although it has msg in it but it is sinfully delish, with rice of course!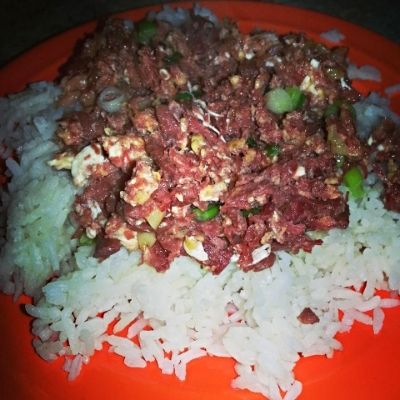 7. Dinuguan or pork blood stew. For Americans, it looks gross or yucky knowing that a pig blood is the main ingredient of this dish but for us Filipinos, this is one hell of a good dish to eat. Not all Filipinos in America or other parts of the world can get to eat it but I do and I'm in Texas. Yeah, as long as the basic ingredient is available then I can certainly make it anytime I want to. You can cook it with just pork meat with fat and blood with it but when I cooked this one for the second time, I also put pig stomach in there that gives it a soft/tender kinda chewy texture when you scope some and put in your mouth.