These are just the food I prepared last night for our Thanksgiving dinner. I also made macaroni salad Filipino version but wasn't able to include in the picture. I baked some chicken drumsticks instead of roasting a whole turkey. Reasons are; it's too big and it would take us a while to eat the whole thing and I have not tried roasting turkey before, it's such a big meat and I don't want to take the risk of screwing it up.
We had turkey last year but it was my husband who worked in the kitchen. Another recipe I cooked is a classic green bean casserole. Thanks to Liliana Hart on FB for sharing her easy to follow recipe.
As usual, we celebrated another Holiday simply with my family. I guess it is going to be like this until we will have grandchildren coming over to our house every Holiday.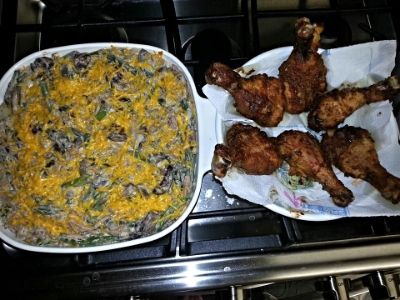 … below is the screenshot recipe of the classic green bean casserole…