It is the time of the year when people go broke even if they have a stable job because of the sales flooding everywhere, good thing there is a credit card that is ready to use anytime to the rescue, you stay at home and you will still have access to sales online. If you go to the mall, you will see big RED signs from each brand/boutique door trying to catch a customer's attention to go inside their shop.
Either you know how to drive or not. There is truly no escape from shopping, I think!
For some, it is the perfect time to be shopping for summer outfits. Almost all stores are getting rid of their out-of-season clothing that they did not sell from last season so they are having really marked down items like the one pictured below. I took it at body central today where I spent most of my time after visiting Gymboree.
Body Central's promo in-store is different from their website, right now they are having a buy 2 get 1 free whereas in-store it's only buy 1 get 1 free. The only thing I am not willing to do is I get to pay for the shipping fee buying clothes online that is why going to the mall instead is practical. Plus, princes online and in-store aren't the same.
When you go to the mall this weekend, rest assured and be prepared to spend some money due to many temptations you cannot say no. I got out of Body Central store today only spent $10+, I bought me a stylish printed fringed and striped maxi skirt (free, online price is $12.29) with double slits.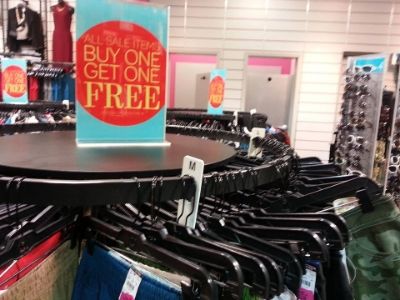 …. one of the skirts I bought is this striped maxi skirt with double slits. Yes, I am 30 years old but it doesn't mean I don't wear this kind of clothing intended for younger people, I still feel young at heart, you know?