My husband did not give me anything on our tenth wedding anniversary instead, he took us out to the farm where our girls had fun and dinner to the Hibachi restaurant last Sunday. It doesn't really matter to me if there is no gift as long as he remembered to celebrate our big with us.
I asked him if we could go to DSW shoe store before dinner since I had a $20 store coupon so I could use it. He agreed with me and I took home two pairs of shoes, one that is flat open sandals and a pair of running shoes. He ended up not getting anything for he did not find any shoes he likes so I was the only one bought presents for me, haha. I like that very much.
I didn't plan of buying another pair of running shoes but it's hard to resist such a deal like it. Besides, the coupon says $20 off $49 purchase and if I buy just the TH flats, the coupon could not be used since my husband did not buy any. This is good though so I will be encouraged to go out there and walk some more since I have really good, comfortable and light shoes to wear.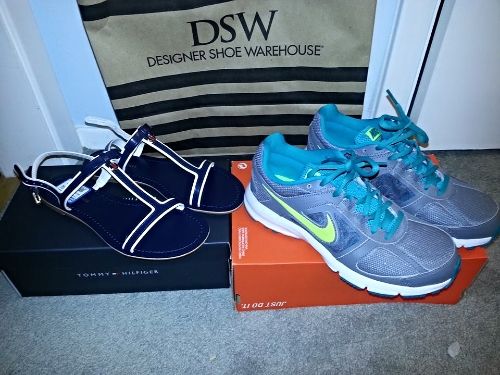 … you see, I saved more than half of what I paid for these two pairs. Running shoes priced for $64.94 minus 30% store clearance price ($19.48) and additional discount $13.69 from the coupon. Nike shoes final price is $31.77. The flats were $29.94 minus 30% off store clearance price ($8.98) and coupon $6.31, final price is $14.65.
Total for two pairs including tax is $50.25, sweet deal, isn't it? I saved $72. 58 which is more than half of what I spent in their store. This is why, I love going to DSW because of the savings I get when I shop there.
If you are a wise shopper, you don't need to pay full price on things when you know you can get them for less no matter what brand they are.