I am thankful for the stores ads in the mail. Although at times they are annoying for there are so many of them and there are days that I can't look into them until they pile up and become trashy. The only thing I could do is look through them as soon as they got in, threw away ads I don't need and keep the ones from the stores that I frequently shop. Ads are truly helpful for shoppers who want to compare prices and shop wisely for groceries and everyday items we use in the house.
First stop of my shopping today was at CVS, I grabbed six of these fave chocs of mine, Ferrero Rocher. On sale at 2/$7. I used 6/$1 manufacturer coupons and extrabucks from previous shopping. Total for all 6 is $21 and paid only $3 plus tax. Not too bad of a deal although I used up all my extrabucks for these chocolates.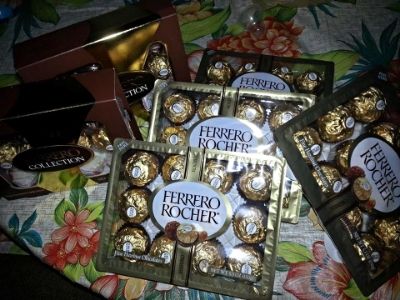 If it wasn't because of Fiesta Mart's ad in the mail, I could have not availed their Libby's Vienna sausage sale today. It is the cheapest price I have seen so far. Today only sale for sausage is 3/$1 or 33 cents each. Fiesta Mart beats Walmart  store brand sausage for 46 cents. I bought 15 cans of it, ten will go to my family in the Philippines.