I am quite pleased of Kroger lately. They have been having sales for stuff that would be great to stock up. Since I do have coupons to pair with their sales, might as well use them all. Good thing though, these stuff aren't as "in demands" for other couponers so they pretty much well stocked up on their shelves.
Since their 10/10 sale started last week, I stocked up on Colgate 4.6 oz. I used all ten of my manufacturer coupons (4 for 75 cents off and 6 for 50 cents off). Kroger limits 3 same like coupons in same shopping trip so I had to do multiple shopping trips there. Cost me .50 and .25 each tube. They expire in 11/15 and I know, you're thinking how are we gonna use them all? Not a problem, my family and relatives in the Philippines will be happy to receive them.
Arm and Hammer spin brushes cost me $2.50 plus tax each after store sale, $8.99 at Kroger buy one get one free. I used four $2 manufacturer coupons for all of them. I have not seen such a price for battery-operated brushes like these. I am happy. I looked at the price of the same brush at Walgreens yesterday it is same at Kroger only not BOGO free.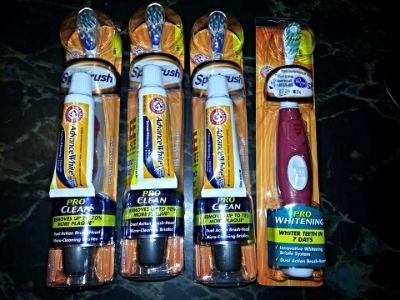 My haul this morning are these 3.5 pounds bags dry dog food. Gladly, I did not throw away dog food coupons (buy one 3.5 lb beneful dog food get one free) for our dog Chicha was out of natural dog food. I've had these coupons for two weeks now but didn't bother using them as I had no instruction from the husband to buy unnatural dog foods. Since we are out of dog food, he asked me last night if I could buy some and he even added, it would be nice if we could have some stocks of dog food so it won't happen again.
Oh by the way, I bought six bags at Kroger at $6.29 each 2 paid bags and the other four at Walmart. Kroger is 81 cents more paid per bag but I earned fuel points for buying at their store while I don't receive anything from Walmart in return.