I should not underestimate the kind and quality of clothing that thrift stores are selling because it has proven (based on my shopping experiences) many times that they are the best places to shop for designer clothing at a fraction of a price. I feel in cloud 9 when I scored really great deals on my new Fall/Winter outfits for this year. I went to McCart Family Thrift Center not knowing what I could dig in their racks, with an open mind, I started going through each hanged clothes from babies, men's and women's of my size, then I went to their housewares and shoes.
I got several items in my cart and paid a total of a little over $60 for 14 items. Take note, what I bought aren't just your usual brand of clothing that everybody can afford. I found me a Banana Republic sweater top, Calvin Klein, Guess jacket, Gap very soft long sleeves top, a pair of new Skechers shoes for only $12.95. Now if that doesn't sound SWEET to you, I don't know how you call that. Photos below are some of my haul at the thrift store last Saturday.
Look at photos below and tell me if they aren't pretty, truly I feel lucky to have found such items that didn't break my budget. I should have known that I can also wear designer clothing without spending so much money on them.
How about you ladies, do you also shop at consignment and thrift stores? Tell me what sort of stuff did you find there if you have shopped there before?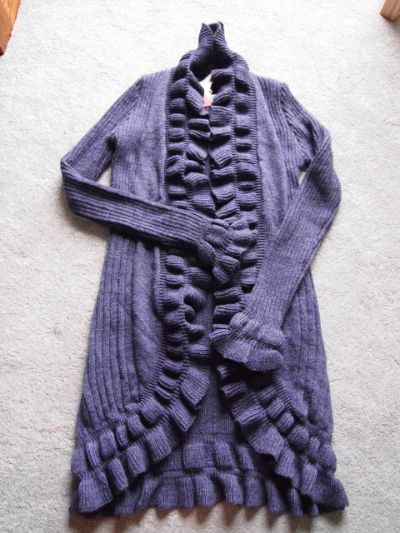 … this lovely open sweater here cost me only $4.94 and it still had a tag on it when I bought it. Take note, it is made in Italy not from China. It is really pretty in actual in grape color.

I didn't really think that I could buy me this Calvin Klein new with tag sweater in beet red for $4.74 and Guess jacket for $3.33, although the jacket didn't have a tag and may be a slightly used item, yet it still look like new. It's a kid's size and large but it fits me so I'm wearing it with pleasure.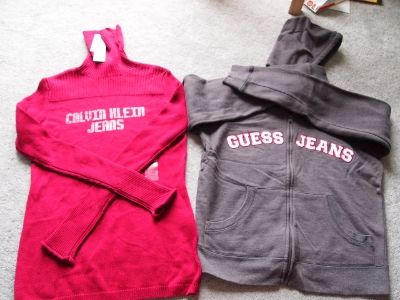 left sweater top below photo is a Banana Republic brand for only $4.74, slightly used but looking like new and in excellent condition, right long sleeves is a GAP and bought it for $2.72.