I couldn't be more satisfied having this Green Earth Pan by Ozeri because it doesn't require an oil to cook eggs in it. Aside from that, it is easy to clean and doesn't give us the harmful chemicals that are released onto our food once the pan is heated. It features GREBLON, ultra-safe 100% PTFE free (PolyTetraFlouroEthylene) which is known to release toxic chemicals at high temperatures and PFOA (PerFlouroOctanoic Acid) which is known as a pollutant to the environment and has been under investigation by the EPA, ceramic non-stick coating from Germany.
It has elevated texture creates air pockets which distribute heat underneath food to enhance cooking, induction stove safe. It comes with a user instruction prior to first use as well as directions as to how to take care of the pan.
I've had it for weeks now and this is the only pan I can grab whenever I feel like cooking fried eggs or hot dogs for quick breakfast for my two girls. I love it as usual. Just a few of the Ozeri products I have used/tried for review of my honest opinion. One thing though, the handle is silicone coated but it gets really hot so I have to use  protective gloves or mittens for it to protect my hand from too much heat. Other than, I cannot complain anything.
You can visit Ozeri's Facebook Page to check out their latest products and news.
Buy this at AMAZON for $23.35 PRIME.

….patterned cooking surface helps prevent food bonding for superior non-stick performance and easy cleaning..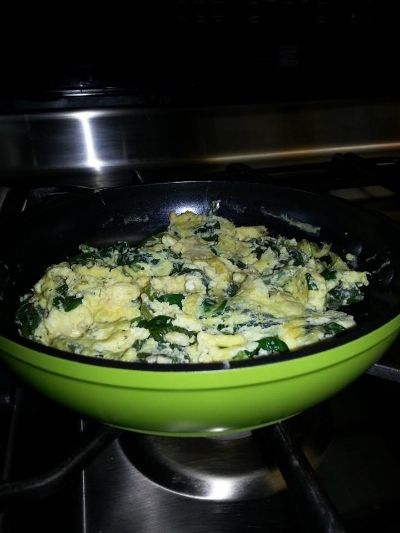 … yummy egg and spinach omelette…