I know it is still too early to talk about Christmas and Christmas lights but I guess it is not just me who is excited about it. I bet, there are also many women out there who think about it and wishing that it would come sooner. Why am I so excited? Firstly, when it comes, it would be like opening new gifts for me because I bought Christmas stuff last year right after the occasion at least over $300. I believe I got everything I need except for one, Christmas lights to be hanged outside the house. I am on ChristmasLightsEtc.com looking for that specific lights that we want to buy.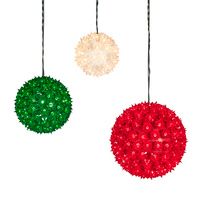 When we went to Arlington for a beautiful Christmas lights show, we saw these lights that are subtle, not very bright lights yet looked nice to our eyes. I tried looking for them in local stores but I couldn't find them. They must be available online, only if I know their specific name so that what I am buying is the right product or item. Browsing through several Christmas lights that are on sale right now and hoping that I could find those subtle lights we saw.
Also more importantly, I would love to have an LED lights that we can confidently leave on for long hours without worrying they go very hot or burn so much energy. Here is the thing, we can have an array of lights at the same time save energy. I know they must be somewhere and waiting to be searched. Seems to me that Christmas Lights Etc. is the right place to be looking for Christmas lights, Christmas Tress, Christmas indoor and outdoor decorations.
There is an on-going Bright Lights of Spring Sale up to 40% off on their site that you might want to take advantage before the sale is over. Bright lights are ideal for party events like birthdays, weddings or just a simple gathering at your back porch. Check it out now!