People who know me especially women know that I am addicted to purses which I admit is true. I don't have that many purses but I have enough more than I can use. I don't own those designer handbags either. I only settle for middle brands like Dooney & Bourke, Coach and Guess but mostly the first two simply because of the budget, lol.
Anyway, enough talking. I just want to let my readers know that I am selling two of my Dooneys as a LOT for $85 plus shipping. If anybody interested in buying these two, please leave me a message or email me. They are still in  excellent condition with few minor scratches. See information below.
It is painful to say goodbye to them (they are the first two handbags I bought with my hard earned blogging money so they are kind of sentimental to me) but I have to make space in my closet. Besides, I don't use them anymore simply because of the size. I have a baby and I need ample space for diapers and wipes, lol. The lucky buyer will be pleased to have them because I take care of my handbags and they are always placed in a dust bag.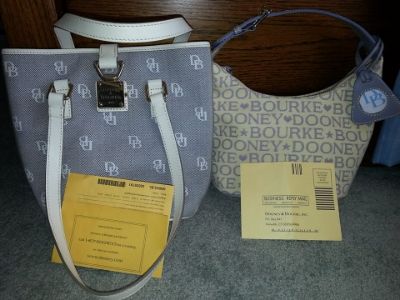 Up for sale is this LOT of 2 AUTHENTIC Dooney and Bourke cute handbags for only $85 for both. They are slightly used and in excellent condition. I take care of my handbags and they are very well kept so rest assured what you are buying are pretty. Both of the handbags come with registration cards which prove that they are authentic.

The first handbag is a North/South bucket bag- gray/white color with a light scratch near the buckle which is shown in the third photo above and some light scratches in the bottom of the rim, they are minor scratches and are not very obvious. Inside is clean and pretty with a style sticker still on. NO rips, no holes
Measures: 11W x 9 1/2L

The second one is a bucket bag,zip top closure in blue/yellow color, it is clean and no stains. Style sticker is still on. NO rips, holes. Measures 11W x 6L

FIRM PRICE! And please serious buyers only!