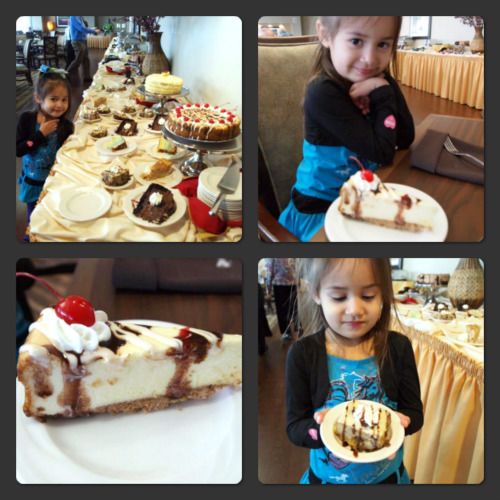 I took these photos of my girl and the different kind of cakes that were displayed at the buffet table at Cochran's in Air Force Village, San Antonio, Texas. Sunday lunch in AFV is always amazing. Plenty of good food just laid on the buffet table, nice people, good service and great company. What could be a better lunch than that?
We had a scrumptious lunch with Jean last Sunday, the last lunch we shared together and who knows when can we visit her down there again. Well, if only San Antonio wouldn't be too much of a drive, we could visit her as often as we can but we also have a life here at home.
Anyway, as you can see in the photos, there are several small slices of cakes and there are also whole ones waiting to be eaten by the diners. Jadyn ate a slice of cheesecake and the other kind I don't know what flavor that was. She was so tempted to try the cheesecake topped with cherry and take note, she only left a bit of that cake after eating the first slice shown on the bottom right photo. I could no longer pick a slice of cake for me because I had 4 rounds of food, I was so full and there was no room for more food in my tummy at that time!